How to Draw Camels Ebook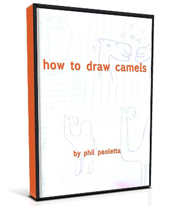 1. You will learn about camels.
2. You will learn how to draw them.
3. You will have fun.
4. It's free
5. Donations are optional. 100% of whatever you give goes towards these projects.
Still not convinced? Read on.
I have been drawing camels for years. For a long time, I just assumed everyone knew how to draw them. Then, one day, I asked one of my middle school students to draw a camel. What they drew was a disgrace. It looked like a brontosaurus that swallowed a pick up truck. I asked more of my students to draw camels and the results honestly made my stomach turn.
It was then that I decided to start an intensive and unforgiving training program. I'm proud to say that close to 20 students in Washington DC can now draw camels.
Teaching the World How to Draw Camels
For years I have been teaching these techniques to nearly everyone I come across. The results have been remarkable. Take a look at the progress made by one of my students in these before and after photos:

Over time I realized I could reach more people if I could somehow package this information into a book. It was not easy, but I did it anyways.
This book will change your life.
You will learn how to draw:
The camel face (one of the most difficult animal faces to draw)
the camel neck
the camel hump(s)
the camel butt
the camel legs
the camel toes
NOT TO MENTION:
A camelcorn (camel/unicorn hybrid)
A fat bactrian camel (two humps)
Two camels making love
Once you learn the techniques, you will be able to draw camels under any circumstances.
If you can't draw a camel after reading this guide, there is something wrong with you.
And once you know how to draw a camel you will:
be more confident – camels are difficult to draw. When you learn how to do something difficult, you become more confident.
make money – you can now draw pictures of camels and sell them to people.
find a mate – camels are one of the most seductive animals on the planet. If you can draw them, you harness some of that power. Since I started drawing camels publicly, I have had to fight off women on a regular basis.
Pay as much as you want
My financial advisors have told me I should be charging $497 for this ebook. There is no question that these techniques are worth at least that much. But I want to reach as many people as possible. That is why I am letting you choose your own price. When you click on the shopping cart it will say $10.00. You can change that amount to anything. If you want, buy it for $0 and donate to one of the projects on the projects page after you've read the book.
Lifetime customer service
I said earlier that if you can't draw a camel after reading this book then there is something wrong with you. But even if there is something wrong with you, I am willing to provide additional support via email and skype. That's right: when you purchase this guide, you have unlimited camel drawing consultations with the author.
Click the gigantic button below to purchase the How to Draw Camels ebook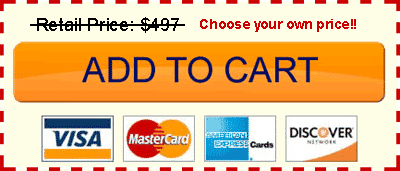 Still not convinced?
Check out the table of contents: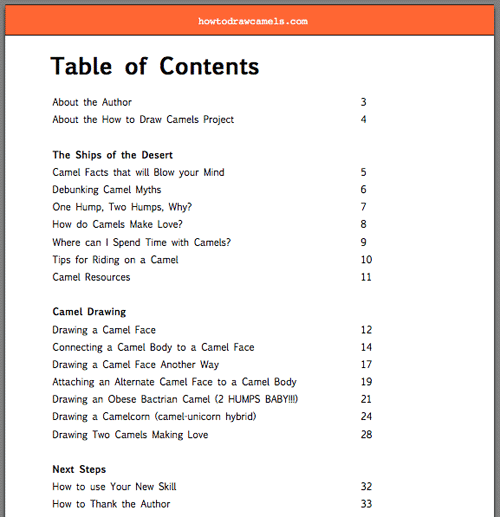 This book is not for everyone
If you are someone who does not like personal and professional success, overcoming barriers, and doing great things with your life, you may not want to buy this book.
If you are ready to change your life, click the gigantic button below