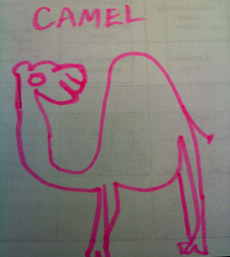 First, I want to announce that 100% of the profits from this site are now going directly to projects I'm going to be connecting with over the course of the next several weeks. Right now I have established contact with 3 different projects in Mali. You can read about them on the projects page. There are more to come.
There have been a number of people who have contacted me via this site who are directly involved with or have knowledge of some really cool people, organizations and businesses doing some great things in Mali and beyond. I'm going to try to feature as many as I can. Now that I am in Mali, this thing is going to kick into gear. Camel drawing, social enterprises, people finding innovative solutions to community problems. All good things to come.
Before things get rolling, I want to reemphasize the purpose of this site.
I'm not a volunteer. I'm not working for an NGO. I'm not starting my own NGO.
I am in Mali to showcase innovative and effective grassroots projects that are being led largely or entirely by the people that actually live here. I will be visiting these projects, documenting their work, sharing it here and if appropriate, I will be contributing financially with profits from this site.
I hope you join me.
Someone you should know: Rizwan Tayabali
Several months ago, Rizwan reached out to me to ask a few questions about traveling in West Africa. He was planning on working with social enterprises in Ghana and Nigeria. After emailing back and forth, we got together on skype. We talked about West Africa, social enterprises, and the potential of camel drawing.
It is because of him that this site exists. Not only did he provide motivation, he offered invaluable guidance in developing the site and the project. He did not ask for anything in return.
Rizwan travels around the world offering pro bono consulting to social enterprises. It is stunning how much ground he has covered. Most recently, he has been in Southern Africa. Before that, it was Southeast Asia. I encourage you to check out his work and spread his vision. He has been incredibly inspiring to me personally and I think a lot of people would benefit from seeing how he spends his days. Find his online profile at rizwantayabali.blogspot.com and check out his other sites Social Effect and Globosocial Adventures.