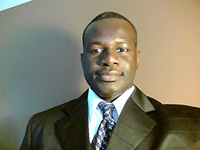 For a few months now, I have been conversing with El Hadji Beye on twitter (@hadjibeye). I got in touch with him to get some travel info on Senegal and to practice my bambara. As the conversation progressed, I realized he was doing some very meaningful work in rural Senegal. Using his engineering background, he has created a social enterprise that is bringing potable water and jobs to rural areas.
In the interview below, Hadji discusses his work and also offers some insight regarding western perception of Africa, aid and development. Enjoy!
1) Tell me a little about your background. What work do you do now and how did you get to this point?
Born in Senegal, I came to the United States in 1996 after graduating with a degree in Civil Engineering (Option Hydraulics) from ENSUT (now ESP). After a long career in the construction industry as an estimator, I founded a social business named Social Enterprise Water Africa (also known as SocEnt Water Africa or SWAF). This social venture focuses on rural development and more specifically access to clean drinking water.
I am fluent in French, English, Wolof (Senegal) and Bambara (Mali); I enjoy playing Basket-ball, good food and my family.
Founding SWAF was, for me, a way to give back Senegal's impoverished populations. It is also a mean to give back to my native country: Senegal. I am currently focused on SWAF 100%.
I obtained the Fundamental of Engineering license from the State of Wisconsin in October of 2009 and am actively pursuing the Professional Engineering license. Always eager to increase my knowledge in technological and scientific advancements relevant to water issues in rural settings, I am constantly initiating dialogue as an opportunity to discover concepts potentially beneficial to villages in need.
2) What in your view is a social enterprise and what role do they have in Africa's development? How big of an impact can they have when it seems like so much depends on the larger machinery of trade and politics?
In this context, social entrepreneurship is a very viable business model in Senegal. Although social entrepreneurship is still in its infancy in Senegal, the opportunities abound in sectors that need to be developed. In short, with social entrepreneurship, goods/services can be produced to solve problems of water supply, sanitation, food shortage, and energy while creating jobs for the unemployed.
Despite the many challenges existing for entrepreneurs and professionals in Senegal (including high unemployment), a social business can be the most relevant business model for a developing economy. A social business is an enterprise with a social mission. Its aim is to achieve some social goals, namely improving the condition of the consumer and surrounding environment, while performing financial gains.
3) What are some of the difficulties in running a social enterprise in rural Senegal?
In Senegal, the main challenge a social entrepreneur faces is corruption: the most extreme (and recent) example is the case of Millicom, a U.S. firm currently in litigation with the government of Senegal. In this case, senior-level Senegalese officials allegedly attempted a USD 200 million shakedown of Millicom over their license to provide cell phone service in Senegal.
The case is in arbitration before the World Bank's International Center for Settlement of Investment disputes; hopefully this case will conclude with a satisfactory result for both parties.
Other than corruption, which is being addressed as a major issue in Senegalese society, the slow administrative process of establishing a company can also be viewed as a deterrent for aspiring entrepreneurs in Senegal.
4) Despite a number of positive reports indicating that Africa is a good place to invest right now, many people continue to believe that the continent is solely a place of war, famine and disease. What would you say to people who feel this way?
In today's business world, Africa still doesn't get the recognition it deserves. Instead, it is rarely spoken of or even acknowledged as a group developing nations. This condition is the result of media propaganda mainly focusing on the problems of the continent and not addressing the positive progress being achieved, and also the overall lack of information dissemination about the possibilities in exports and bilateral relations between Africa and the West.
But the largest misconception is the belief that Africa just doesn't have the purchasing power to be a viable market—but nothing can be further from the truth. To wit:
– In 2008, the United States purchased USD 86 billion worth of goods from Africa, while Africa purchased 18 billion of American goods. This trade deficit creates a surplus of USD 68 billion for African economies. Who still thinks that Africa doesn't have purchasing power?
– When selling in Africa, it is important to select the right customers in order to conduct a successful business venture. Africa has three types of consumers: large companies, rural communities and informal merchants. Larger companies are able to pay for goods in bulk while rural communities pay by spreading the costs throughout the community (each family brings a small contribution—a real community effort). And informal merchants buy small amounts but they are many in numbers.
5) What is your vision for development in Africa? (For example, some people believe that the best thing for Africa would be to cut all aid. Others feel the opposite is true. Some believe the solution is in between. Some people believe that information and communication technology is going to have a big impact on Africa's development etc. etc.)

Well, first things first…it is essential that we differentiate aid from development. Aid is a process of alleviation of poverty (an emergency supply of goods or services to reduce a negative impact…for example hunger, diseases, lack of water or other critical condition). Aid is essential to many African countries and although it can be improved, I don't believe that aid should be cut or reduced…it should be put to better use but not reduced because there are still so many unresolved issues in our continent.
But fundamentally, it is crucial to acknowledge that the engine of development is entrepreneurship and sustainability in a nation. Production of goods/services, trading and rise in employment result in an increase of income; which will, in turn, bring about the improvement of quality of life (better infrastructures, services, more public funds…).
Aid, if implemented well, can participate in this development process (by creation of jobs, creation of entrepreneurship, micro-finance of worthwhile projects that target MDG goals while simultaneously creating jobs/businesses). But to consider reducing or cutting aid is absolutely absurd for anyone who has lived or visited Africa and witnessed the conditions.
Information and communication technology are wonderful phenomenon globally and for Africa too, yet it generates a little too much hype as far as Africa is concerned. The way information is used is the most important factor at the end of the day, the needs that we have in Africa can only be satisfied by actual implementations…if Access to information leads to development projects and meaningful networking with the right resources then great, otherwise I am not a fan of connecting to the internet just to create a facebook page.
Thanks Hadji!! For more info on Hadji and his work, follow him on twitter at @hadjibeye and check out his website: Performance Consultants International.
BIG NEWS
Tomorrow is World Camel Day. I hope you have already made arrangements to celebrate (renting out a conference center or an amusement park, for example). Stay tuned for a big announcement on howtodrawcamels.com.