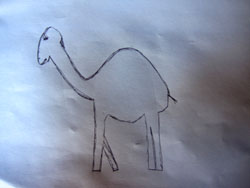 Remedial Camel Drawing is a new series I am starting on the blog. It features clients and students who are severely inept at camel drawing. After my workshop, these students find themselves at full camel drawing proficiency. For them, it is a revelation. It is similar to a blind person using their vision for the first time. For me, it's just another day at the office.
If you would like to hire me for a workshop or consultation, I can be reached at phil dot paoletta at gmail dot com or on the cellular number +22370320344. My prices: $2,495.99 USD for a 30 minute consultation and $1,329.99 per person for group workshops (minimum of 5 people). I occasionally offer complimentary consultations if the mood strikes me (somewhat often). Alternatively, you can pick up a copy of the How to Draw Camels Ebook.
Meet Patrice, a well-spoken gentleman from Cameroon. Watching Patrice draw a camel was one of the more agonizing things I have had to endure in recent weeks. At first glance, his was a hopeless case. Could my techniques offer proficiency or even a basic level of dignity? Honestly, I wasn't sure. See what happens for yourself in the video below:

link: http://www.youtube.com/watch?v=8xEEJq5exL8
If you have not had a chance to check out my interview with Boukary Konaté, click here.
Up next: More camel drawing, visiting a women's cooperative in Bamako and shadowing community health workers from Project Muso.